Sunday, August 15th, 2010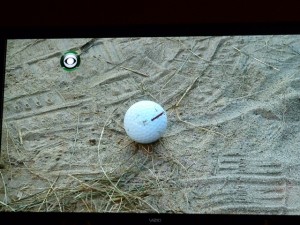 Is this a Sand Trap, or Bunker?  Dustin Johnson thought, as virtually all the fans on the course and at home thought, it was a path, not a bunker.  But it is a bunker designed by Pete Dye, the course designer.  Dustin Johnson put his club on the ground behind the ball; in golf language he grounded the club.  A no no in a bunker.  So after finishing the hole, and tying the PGA Championship, on national television, he was penalized two strokes and dropped out of the playoff with two other players.  A real shame.  But…
Golf pros are their own CEO and the CEO is responsible for knowing the details when he or she is making a decision.  Routine situations, even ones disguised by trampling, are not routine when the CEO is involved.  So there is a lesson for all of us to learn.  Know the rules, know the details.  In this case the ball is resting on sand, and might have raised a question in Johnson's mind, but it did not because the bunker was trampled.
At first I thought it was a path, but the rules chairman explained that "local rules" were clearly spelled out in handouts and signs, and the local rules made it clear that every sand area on the course was a bunker.
Tough.  Very tough.  But…  Johnson missed it.
So we must all stay current, read, research, learn, go to school, read the NY Times online (my bias), read books, stay technically current, know your accounting, know your pricing, know your costs, and know your customers.  There are no small decisions.  Know the details and pursue them relentlessly.
Dustin Johnson is a stand-up man who I think will be back to win other major golf championships.  Lets hope this bad decision doesn't cripple him.  Another trait of the CEO must be resilience.  We make mistakes, we have to move on, correct the work, and get on with running a profitable business.