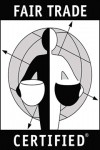 October is Fair-Trade month and is a perfect time to take a look at offering Fair-Trade Certified coffees to your customers. In the spirit of the month, we're introducing a 3-part blog on Fair-Trade Certified coffees and how they matter to you and your business.
What's this Fair-Trade stuff all about?
Talking about Fair-Trade Certified coffees can become very confusing, very quickly. What exactly is Fair-Trade Certified? What about Free Trade or Fairly Traded or even Direct Trade? What's the difference, if they're not all the same thing?
Free Trade is an entirely different animal that you'd be hard-pressed to find any non-politically biased information on. In its most basic form, Free Trade is a trade policy that allows traders to act and trade without interference from the government. This means there are no certifying agencies and middleman regulated tariffs or taxes. There are no checks and balances, no one to watch where monies are going or how it is spent. There's no standard on who decides or defines what "free trade" is.
Direct Trade & Fairly Traded are very similar. The principles of Fair-Trade Certified are somewhat represented. Coffee roasters purchase direct from farmers without utilizing middlemen or any outside certification. The roasters create the standards and determine what is fair. However, most of the standards are not across the board and can differ from coffee region to coffee region. There is an overall, albeit flexible, approach to labor and environmental issues. The main concern tends to be for the economic sustainability of all parties involved. The biggest difference is the lack of a 3rd party organization, like TransFair USA. This means that the only people making sure the practices are Direct or Fair are the roasters themselves. The question that remains is whether or not consumers feel able to trust an individual business' judgment, over an independent 3rd party organization, dedicated to assure criterias are met with an unbiased agenda.
Fair-Trade Certified coffee is an organized social movement and economic-based approach that aspires to help producers in developing countries promote sustainability by paying close attention to the details in trade and cutting out the middle man.

This means that:

The farmers are being paid fairly for their work
The living and working conditions are safer
The producers have direct access to international markets, thereby cutting out the middle man and extra costs
And there is an independent organization that is making sure these guidelines are met.

Fair-Trade Certified also has a very specific vision for the health and well-being of the farmers. Certification, which is received from independent 3rd party organizations, makes sure that working conditions are safe, that child labor is not happening and that money is being put back into these impoverished coffee producing communities to stimulate growth out of poverty.
In today's society of social responsibility our cars are becoming gas sippers as opposed to gas guzzlers, our papers and plastics are becoming more recyclable and our homes are becoming greener. It's fashionable to care about more than just what affects us and us alone. Fair-Trade Certified has been on the rise for the past decade or so and fits perfectly in with the idea to be more socially conscious and aware of the impact we have with our choices and money.
In addition to the social responsibility, there's also the health aspect. With the world searching for ways to lead a healthy and long life, the organic market keeps growing and growing. Currently, according to TransFair USA, 60% of Fair-Trade Certified certified coffees in the U.S. are also certified organic.
100% of Kaffe Magnum Opus's Fair-Trade Certified coffees are certified Organic.
Stay tuned for Vol. II — Am I made for Fair-Trade Certified?
Tags: Business, Business Owners, Coffee Sales, Increase Sales, Marketing for Small Business, Promotion, Retail Success, Specialty Coffee Roaster, Well Being