co-written with Robert Kraeuter
If they say not to judge a book by its cover, then why do publishing houses go to great lengths to create such dynamic and alluring ones with captivating titles?
Because it sells books!
Yes, I know that what is on the inside is what really counts, but the storefront, the logo, and the business name are the first and most instrumental building blocks you have in constructing that initial relationship with a potential customer.
What does your storefront say about you?
If your business does not look inviting from the outside, or does not clearly define what kind of store you are, your potential customers will just walk on by. What does your storefront say about you? If you are a coffeehouse, would someone know it by driving or walking by? How about a gourmet store or café?
Try this 10 minute test and see if your message is having an impact.
Stand across the street from your store or shop, and randomly stop passers-by and ask if they can tell you what that business is across the street. What do they say?
Most of the time, you have about 3 to 5 seconds to attract someone's attention as they drive by. If they are walking by and have a longer period of time to inspect your storefront, is the message any clearer? Does your identity stand out from all the others clamoring for that customer's patronage?
Some ideas to help make your storefront work for you:
Think about the type of impression you want to make about your business. Is it a quiet place to relax? An up-beat and energetic grocery? An olde-style bakery? What objects or colors come to mind when you think of those things? How can you use those objects and colors to re-enforce that message inside or outside your business?
When in doubt – less is more! Don't clutter the windows up with menus, posters or banners – you should be able to see inside your shop.
Don't tint the windows too dark – it will look like the business is closed.
Avoid polarizing messaging such as political, religious or sexist signage. Coffeehouses especially should be viewed as a social Mecca – open to everyone.
Make your logo large enough to see from the other side of the street. You should use a general rule of thumb of 5-inch high lettering for every 100 feet you want your sign to be seen by.


However, you should avoid having your entire message scream at the viewer in all the same font size. Your logo should be the most important. Supplemental signs and lettering should be much smaller in size as a very general rule. Think one word for every second of attention you will have – and don't expect to get more than 3-6 seconds.

If you have an awning, use it to tell what you are or what you do. Keep it fast and simple.
Make use of the sides of the building to gain additional attraction time. This could be an un-tapped billboard opportunity – but check with your landlord first!
If possible, set up a quaint outdoor dining area – café tables and colorful umbrellas, brightly planted flower boxes or barrels, or unique flags from coffee producing countries to attract notice.
Sweep or hose down the front sidewalk and gutter area daily.
Pump music outside! It will add an aire of excitement and curiosity to passers-by. Make sure it's relevant to the atmosphere you are trying to convey, and not disruptive to your neighbors.
Photo examples of effective storefronts: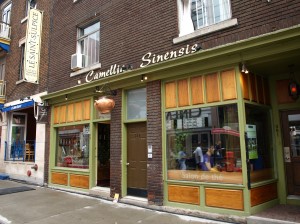 This clean storefront uses fun colors and classy accents  of wood trim to give it a casual but  high-class feel. Note the brass tea pot hanging sign, and the business name.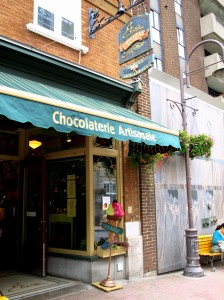 Another nice and tidy storefront using an awning to frame their doorfront and describe the business. A unique sidewalk sign greets passers-by as well. This is a chocolate shop as well as a museum.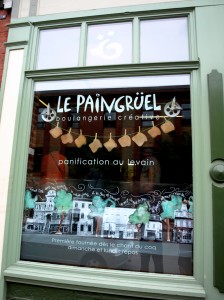 A simple but effective window treatment. Clean, and does not block visibility inside, but still conveys the message of the shop. (Taken in French-Canadian Quebec) Look closely at the "clothesline" – it's toast! Very clever pairing of objects to add uniqueness to the business.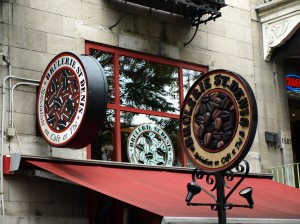 What a cool coffee shop sign!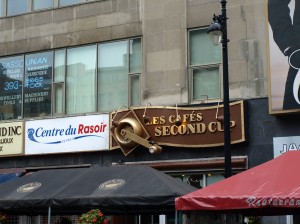 Another very cool coffee sign. Unique and dynamic! The 3-d Sign really stands out from the rest.
Examples of less effective storefronts:
This storefront suffers from too many signs screaming at their customers. Remember you only have less than 5 seconds to get their attention – one or two clear messages is better than throwing several out there in the hopes that one will maybe stick. Also, you can't see into the store at all, save for the tinted door. It feels very uninviting.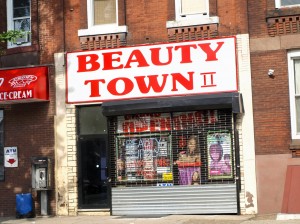 What does this store say to you about Beauty? What colors or objects convey the feeling of being beautified or pampered?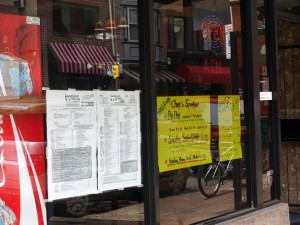 It's a great idea for a restaurant to show a sample of their menu from the street – however, avoid covering up all of your windows with signs like these. Stick to one or two menus at or by the door, or on a nice free-standing display you can set out on the sidewalk.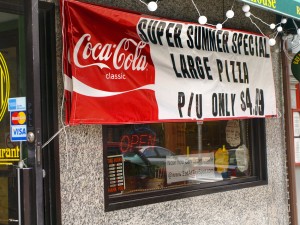 Another store that falls victim to covering up their windows with an abundance of signs and a huge banner. Keep it clean and simple!
Your Logo – What does It Say About You?
It is said that a picture says 1,000 words, then so does an appropriate and properly designed logo.
What does your logo and company name say about your business?
A catchy and unique name that clearly and quickly tells someone the type of business you are operating will help pique their interest enough to open the door and walk in.
All too often business think of this part of their identity absolutely last – when it's the very likely the first thing your customer may see about you. While a great product and excellent service is just as important, you should seriously consider professional treatment of this face of your business as well.
Consider hiring a design consultant to take a look at your logo and identity to get a valuable outsider's perspective and feedback on your local target audience. There are many different kinds of graphic designers out there – one for every size budget and need. Ask around – what local businesses do you feel are doing it right? Go right up and ask them who created their logo for them. You may be surprised at just how accessible a professionally designed logo can be!
Remember that you only have 1-2 seconds to make that impression with your logo. Can a viewer get a feeling for what you are about in that time?
Keep it as concise and simple as possible. Less really is more when it comes to a logo!
They're In! Now what?
Getting your clientele to step inside the door is only half the battle. It's keeping them in and engaged that makes the interest turn into a sale.
Stay tuned for next week when we tackle this subject.
Have a tip or idea that has helped you? Any questions about what you can do to your store to increase visibility? Leave a comment or feedback.
Tags: Business Ideas, Business Owners, Increase Sales, Marketing for Small Business, Promotion, Specialty Coffee Roaster